I know I'm not posting texts and pictures too often here - to be honest, I guess I lost my heart to this blog somehow. I really like arranging my outfits around a painting and adding a place to it but I don't really enjoy having my pictures taken and it takes so long to create a new post... I'm thinking about closing this blog or it will be as it is: rare updates. I don't want to follow an easy path and just show nicely arranged contents of my wardrobe - that wouldn't be fun for me. Well, I'll think about it.
The outfit I have here is a mixture of all old things. The jacket was bought in Zara (one of very few Zara clothes that I possess) when big, golden buttons were the newest craze (about 3 years ago). The trousers are one of my summer staples - I have the same pair in black and dark blue. Linen is great for hot weather but unfortunately it creases too easily. Shoes are from India - great for that country but not so great in London, where pavements are made for the blind and through thin soles my aching feet can feel the pavement every time I approach a street crossing.
The picture on the left shows a part of a huge painting entitled "Fusilamiento de Torrijos y sus compañeros en las playas de Málaga" by Antonio Gisbert that I saw in the Museo Nacional del Prado in Madrid and the picture on the right shows one of the beautiful balconies in the Kreuzberg district of Berlin.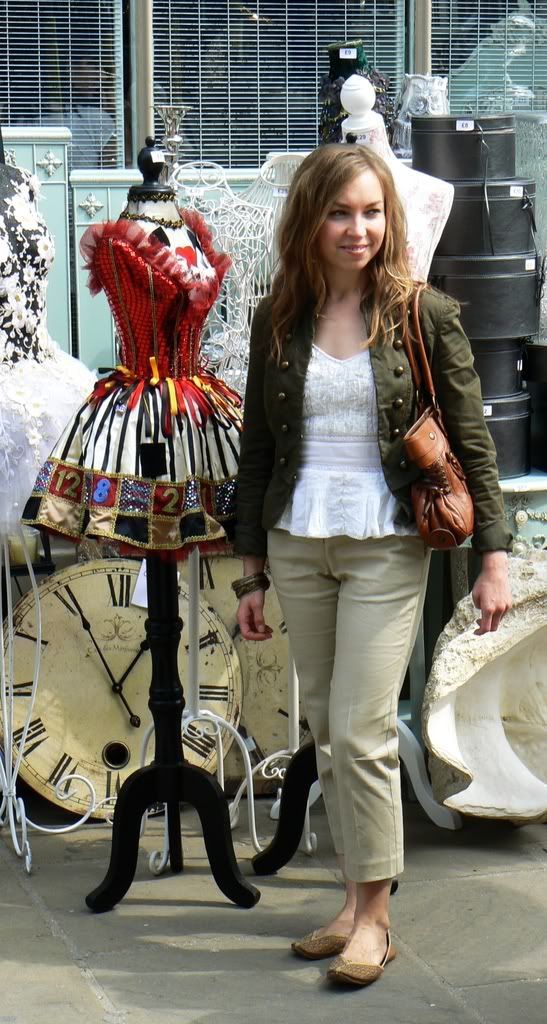 Jacket - Zara